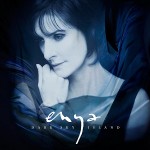 Na 7 jaar stilte brengt Enya op 20 november 2015 haar nieuwe album 'Dark Sky Island' uit. 'Dark Sky Island' ontleent zijn titel aan het Engelse eiland Sark, het eerste 'dark sky' eiland ter wereld, waar 's nachts geen lichten branden zodat de hemel in zijn volle glorie te zien is. Voor het schrijven en produceren van het nieuwe studioalbum is Enya wederom met haar vaste muzikale partners Nicky Ryan (producer) en Roma Ryan (tekstschrijfster) aan de slag gegaan. Roma schreef enkele poëzie-boeken met eilanden als thema waarin onder andere ook het eiland Sark centraal stond, het was de aanleiding om het titelnummer 'Dark Sky Island' te schrijven, wat ook de inspiratie vormde voor de andere nummers op het album.
Enya is in 2012 begonnen met schrijven en zegt over het concept van het album: "This album has a theme of journeys. Journeys to the island; through the length of a lifetime; through history, through emotions; and journeys across great oceans. So although it's not a 'themed' album, as such, we nevertheless have an underlying connection between songs."
De Ierse componiste, instrumentaliste en zangeres heeft inmiddels een zeer indrukwekkende carrière achter de rug. 28 Jaar geleden verscheen haar eerste album en tot op heden staat Enya garant voor meer dan 75 miljoen verkochte albums wereldwijd. Ze won vier Grammy Awards en zes World Music Awards. Andere hoogtepunten uit haar carrière; de nummer één hit 'Orinco Flow', de leadtrack 'May It Be' van de film 'Lord Of The Rings: The Fellowship Of The Ring' en het aangrijpende 'Only Time' dat na de terroristische aanslagen op 11 september 2001 in de Verenigde Staten gebruikt werd als achtergrondmuziek bij talloze tv- en radioreportages over de gebeurtenissen.
Tracklist 'Dark Sky Island':1. 'The Humming'2. 'So I Could Find My Way'3. 'Even In The Shadows'4. 'The Forge Of The Angels'5. 'Echoes In The Rain'6. 'I Could Never Say Goodbye'7. 'Dark Sky Island'8. 'Sancta Maria'9. 'Astra et Luna'10. 'The Loxian Gates'11. 'Diamonds In The Water'